After a long day of celebrating in Helen's Festhalle, you're going to need someplace to rest your bones in preparation for the next day's adventures. To truly be able to unwind, however, it's important that you book accommodations in a north Georgia location that will make you feel comfortable, and will be compatible with your unique personality.
Do you know how to find the perfect spot? To ensure that you have a great Oktoberfest experience, here's a look at five popular places to stay during the festival, and what they have to offer travelers like yourself.
Top 5 Places to Stay During Oktoberfest
Photo Courtesy of Heidi Motel
5. Heidi Motel
8820 North Main Street
Helen, Georgia 30545
Phone: 706-878-2689
Located on Main Street, directly across from Betty's Country Store, Heidi Motel Wind Mill Suites is one of Helen's oldest landmarks. The gorgeous facility is also one of the most photographed buildings in the Alpine Village, making it a trendy spot. While all rooms feature free internet access and an HD TV, select suites also provide guests with a kitchenette, fireplace, or a hot tub.
Incredible views of the surrounding mountains and the motel's private gardens also draw many folks. Festival-goers who prefer more traditional lodging but don't want to miss out on the experience of Bavarian Helen are served best by staying here. The Heidi Motel is within walking distance to downtown Helen so that you'll never be far away from the heart of the action. Their motto is come as a stranger, leave as a friend.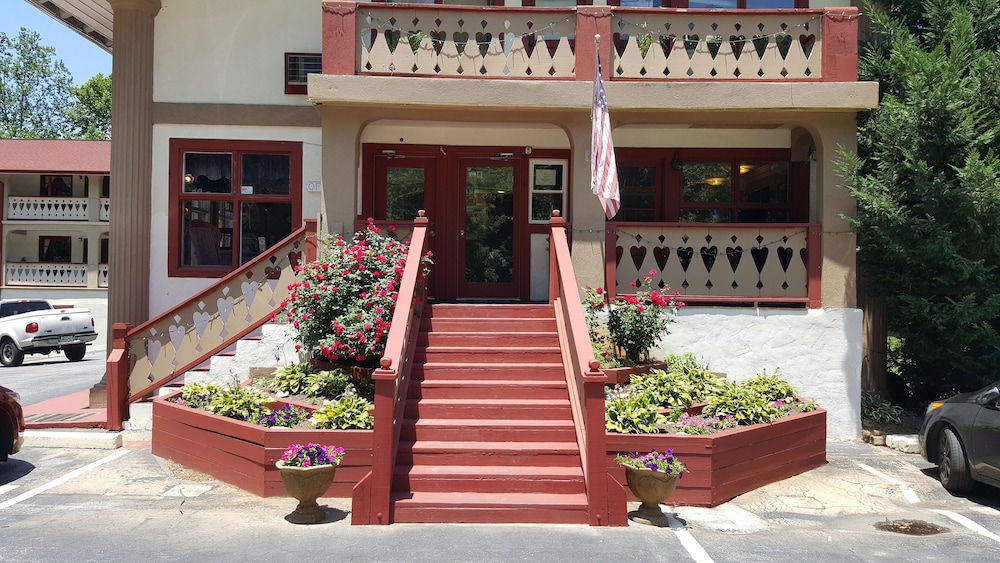 Photo Courtesy of Hotels.com
4. Riverbend Motel & Cabins
134 River Street
Helen, GA 30545
Just a 1-minute walk from the Chattahoochee River, guests of the Riverbend Motel & Cabins can choose whether a motel room or cabin rental is better suited to their style. All motel rooms were recently remodeled, and feature flat-screen TVs, mini fridges, and hair dryers. Swings are located along the river for guests to enjoy, and you may also feel free to take advantage of the communal grills and picnic area.

Cabins offer multiple bedrooms, gorgeous riverfront views, a dining area, and a living area. Some select cabins also include a Jacuzzi for even more in-depth relaxation. Riverbend Motel & Cabins are a one-block walk from downtown Helen, making this an ideal spot for those who don't want to worry about driving after a full day of enjoying Oktoberfest.
Photo Courtesy Of Shutterstock
3. Unicoi State Park
1788 Highway 356
Helen, GA 30545
Phone: 1-800-573-9659
After spending hours singing, dancing, and celebrating with fellow Oktoberfest attendees, you may want to escape for awhile. At a little over 3 miles from the Festhalle, Unicoi State Park offers several options for lodging, all of which feature incredible views of the mountains and nature.
100 guestrooms at Unicoi Lodge are available, each offering wireless internet, climate control, and a coffee maker for your early mornings. Many travelers enjoy staying in one of Unicoi's 30 rustic cabins, as well. The most luxurious of these are the Lakeview Cabins, which are the largest available with three bedrooms and one bathroom. The Barrel Cabins include either one or two bedrooms and a bathroom, as well as balconies which overlook the lake.
Lastly, Smith Creek Cabins feature two bedrooms, two bathrooms and are located deep inside the park. This location enables guests to reconnect with nature in solitude. Campsites are also available within Unicoi State Park, for those who wish to stay in an RV or tent.
Photo Courtesy of Helendorf
2. Helendorf River Inn Suites
33 Munich Strass
Helen, GA 30545
Phone: 706-878-2771
Festival-goers who want to stay right in the middle of the celebration might consider staying at Helendorf River Inn Suites
Situated just .3 miles from the Festhalle, Helendorf River Inn Suites is within walking distance to numerous restaurants and bars. Large Riverfront, Junior and Tower suites are available. Each one offers creature comforts that make your getaway close to perfect. They also provide Riverfront Balcony, Riverfront Patio, Off-River and Accessible guest rooms. There is something for everyone.
If you are a guest, take advantage of their riverfront picnic and grilling areas. And don't forget to visit the Shoppes of the Helendorf. You'll find fun stores like Alpine Candy Mine, Old Tyme Portraits, and La Cabana Express; a family established Mexican food eatery.
1. Cedar Creek Cabin Rentals
Phone: 770-952-4130
If you are coming to Oktoberfest and like the idea of privacy and seclusion, without compromising luxury, plan to book a stay at one of the lush cabin rentals available from Cedar Creek. Because cabins are available in Helen, or ten, fifteen, twenty, and twenty-five minutes outside of Helen, guests can choose how close or far away they want to be from the hubbub of the festival.
These rentals offer the ultimate in privacy, and visitors can choose the type of cabin view they want, whether it's nestled in the mountains, along a creek, or with a waterfall view.
Wraparound porches, fully equipped kitchens, flat screen TVs, internet, private barbecue pits, game rooms, satellite radio, hot tubs, Jacuzzi tubs, and Saunas are amenities you can select from when booking your cabin.
Our Additional Oktoberfest Content
In our Oktoberfest hub, you'll discover multiple resources to make your next Oktoberfest celebration a wonderful experience. Here is a list of blog posts you'll find.
Where will you stay during Oktoberfest?
Share in the comments below...
Topics:
Oktoberfest
,
Cabin Rentals